Headband bjež DROP5 CAVE
A sports headband with colors of nature and mysterious corners. Another unisex piece that you can enjoy while running, hiking, playing tennis or working out at the gym.
General information
| | |
| --- | --- |
| Care | Headband wash by hand, occasionally also in the washing machine in the gentle / sports program (30 - 40 ° C). Do not use fabric softener! |
| Dimensions | S/M 5x46, L 5x48 |
| Weight | 9 g |
| Material | 85 % polyester, 15 % elastane |
| Design | Eva Simberova |
| Producer | Bjež Original s.r.o. |
| Sizes | Size tables |
Description
The DROP 5 headbands are only 5 cm wide, hence the name DROP 5. They are ideal for those who want to keep their forehead as uncovered as possible (especially in summer), but at the same time appreciate the functional material that perfectly wicks away sweat so that it does not get into the eyes. The headbands are suitable for any sports activity in warm weather or indoors. Even during intense exercise, they keep your head cool.
The headband is:
Elastic: The material is flexible in 4 dimensions
Very good sweat absorption: Never again sweat in the eyes
Quick drying
Extremely comfortable: light and soft, does not press anywhere, comfortable to wear
Original Czech product: design by Czech designers and artists. Production takes place entirely in the Czech Republic.
The color tone may be slightly different from the photo due to monitor settings. For a better imagination, read the product description with more information or contact us.
Our perforated summer headbands are suitable for women, men and children. They are perfect for training and fun on warm days. We make them from functional, absorbent material that is also richly perforated for perfect air permeability. Heat and sweat do not stand a chance against this headband.
How to wear the headband properly?
This headband effectively wicks moisture and sweat away from your face so you can focus on your workout. It is designed to be worn directly on the forehead or at the forehead/hair interface. It should always be put on so that at least one part is on your forehead. Only in this way can it hold well.
The headband is made of elastic material, so it fits perfectly to your head. It is suitable for all sports and activities where the hair must stay in place or sweat should not run into the eyes.
Headbands DROP 5 are sewn in our own factory
First we used this material for headbands. We tested it during a hard triathlon training and found it perfect. The material is very absorbent and lightweight. The headband is printed with our own design and we recommend wearing it in warm weather or during intense training if you want to make sure that not a single droplet of sweat ends up in your eyes.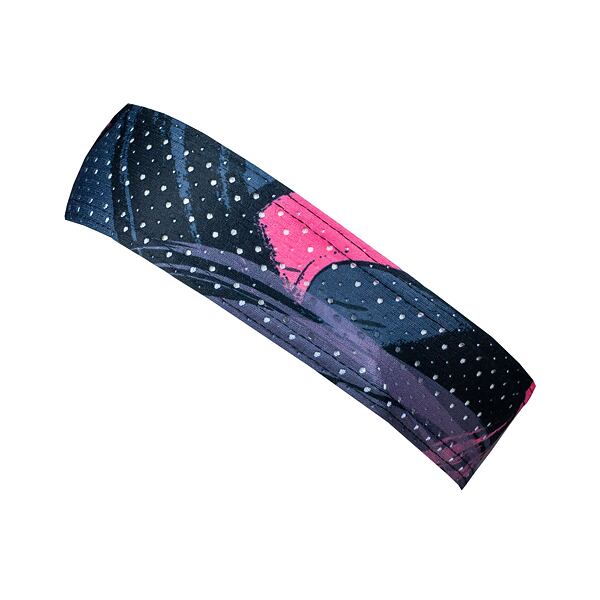 Customer reviews