bjež headbands Double RUN FAST
RUN, RUN, RUN - or do you need something else to motivate you? These running headbands with the unmistakable slogan of encouragement are a must for all runners!
General information
| | |
| --- | --- |
| Care | Headband wash by hand, occasionally also in the washing machine in the gentle / sports program (30 - 40 ° C). Do not use fabric softener! |
| Dimensions | Headband DROP 8x46 cm, Headband ACTIVE 9x46 cm |
| Weight | 10 g |
| Material | ACTIVE 83 % polyester, 17 % elastane, DROP 80 % polyester, 20 % elastane |
| Producer | Bjež Original s.r.o. |
| Sizes | Size tables |
Description
Two headbands in the same design for activities in any weather.
The DROP headbands are suitable for any activity in warmer weather or indoors. Whatever activity you choose, the headband will help keep your head cool and prevent sweat from dripping into your eyes.
The headbands of the ACTIVE series are slightly warm and windproof. You can rely on them on cold and windy days.
The headbands are:
Elastic: The material is stretchable in 4 directions. It fits very well to the head.
DROP: very good sweat absorption and dries quickly.
ACTIVE: protects against cold and wind.
Extremely comfortable: light and soft, pleasant to wear.
Original Czech product: design by Czech designers and artists. Production takes place entirely in the Czech Republic.
The color tone may be slightly different from the photo due to monitor settings. For a better imagination, read the product description with more information or contact us.
How to wear the headband properly?
These wide athletic headbands effectively wick moisture and sweat away from your face so you can focus on your workout. They are designed to be worn directly on the forehead or at the forehead/hair interface.  The headband should always be put on so that at least one part is on your forehead. Only this way it can hold well.
The headbands are made of elastic material, so they fit perfectly to your head. They are suitable for all sports and activities where the hair must stay in place or sweat should not run into the eyes.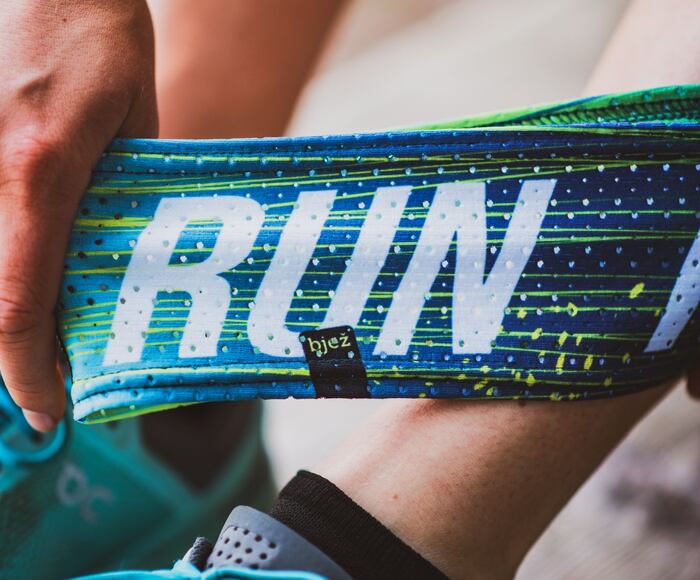 Headbands sewn
in the Czech Republic
The material for the wide headbands is made in Italy, we print it in the Czech Republic with our original design and sew the headband. Also this headband is handmade.
Customer reviews